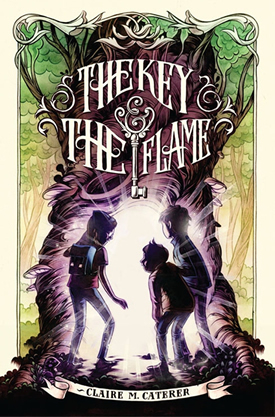 Book #1 in THE KEY & THE FLAME series
Margaret K. McElderry Books / Simon & Schuster
ages 8-12 (grades 3-7), 468 pages
available in paperback, hardcover & ebook formats
ISBN-13: 978-1-4424-5741-6
"A wand such as yours can only belong to an Adept—one of great magical power."
Eleven-year-old Holly Shepard is hardly one of great magical power. She's just an ordinary girl living in an even more ordinary American suburb. Her brother Ben excels in the advanced-math class while Holly pulls a C for daydreaming and doodling on her test papers. But her greatest wish—to escape her humdrum existence and experience true adventure—has just been waiting for the right moment to come true.
When the family travels to England for the summer, Holly finds more adventure than even she bargained for—an ancient iron key that unlocks visions, portals, and even the magic long slumbering in Holly herself. With Ben and his friend Everett, Holly travels to Anglielle, a medieval kingdom where magic is outlawed and those with magical powers are hunted by a ruthless king. Holly soon discovers that her magic is the most sought-after of all.
Packed with magic and adventure, The Key and the Flame is only the beginning of a five-part series that chronicles how Holly, Ben, and Everett strive to restore magic to Anglielle and defeat the evil forces that hold the kingdom in its grip.

"Filled with swordfights, spells, and an endearing cast of creatures, Holly's journey makes for a rousing adventure."
–Library Media Connection
"A juicy, entertaining and far from ordinary tale!"
—KidsReads
"A classic fantasy adventure."
—Watermark Books & Cafe
"Caterer is especially good at creating believable children in all of their human imperfections."
—Publisher's Weekly
"Filled with excitement, suspense, and adventure—not to mention magic! The Key and the Flame is exciting from the very first page."
—Jack and Jill magazine