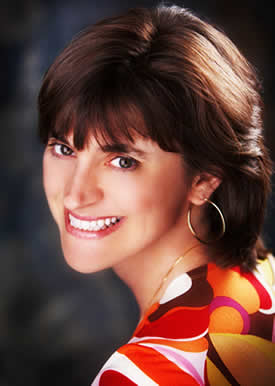 Claire M. Caterer was born in Detroit, Michigan, and raised in the suburbs of Kansas City.
A writer from the age of five, Claire has published fiction in
Woman's World
magazine as well as in
Ellery Queen
and
Alfred Hitchcock
mystery magazines. She holds a degree in French from the University of Kansas and spent several years working in New York publishing. Today she is back in the Kansas City metro area, where she writes full time and shares her home with her husband, daughter, two dogs, and a host of imaginary friends.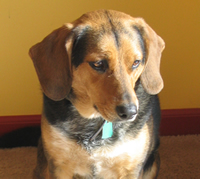 FAQ
1. How do you say your name?
Click here and I'll say it for you!
2. Where do you get your ideas?
It's almost easier to answer, where don't you get your ideas? Finding things to write about is as easy as that game we all used to play as kids. I called it the "Let's Say" game. Picture me eight years old, stuck inside on a rainy day with a couple of friends. My mom has gone out; my big sister ignores us. My friends and I jump onto Mom's bed, the rain drumming on the windows. Then one of us says: "Let's say the bed is a big boat, and the carpet is the ocean. And we're stranded with nothing to eat but graham crackers." We grab the graham crackers and eat them on the bed, bouncing around as the waves toss us in the stormy sea. That's what writers do. They just play the "Let's Say" game a little longer than other people.
"Let's say there's a beautiful, smart young woman whose mother is desperate to marry her off to someone wealthy, but she's determined to marry for love …" (Pride and Prejudice)
"Let's say these four kids are stuck in a gloomy old house and run into a spare room to get away from the mean housekeeper, and then find their way to a magic land …" (The Lion, the Witch and the Wardrobe)
"Let's say this kid goes inside a huge peach and all the bugs become his friends …" (James and the Giant Peach)
Look around you, at the people and the places. Listen to conversations. Ask yourself "What if?" That's where ideas come from.
3. How long does it take to write a book?
It varies. My first book, The Key & the Flame, took about three years because I had to invent an entire world and mythology. I had to do a lot of research, and then I roughed out the five-part series. Finally, I had to write that first book. The second book in the series took about 14 months to write, because the world and the characters were already formed. Also, I had a deadline. That's a great motivator.
4. What are you working on now?
I've finished outlining the third book in The Key & the Flame series. It's (tentatively!) called The Spell & the Stone. No word yet on when that book will hit the shelves, so in the meantime I've been working on a separate, supersecret project that I'm very excited about. I'm hoping to have news on it soon!
5. What's your writing schedule like?
I write something every day. When I'm working on a book, I work on it five to six days a week for two to three hours at a time. The best time to write is first thing in the morning, and if the weather's nice, I'm outside on my deck. Afternoons are for research or outlining.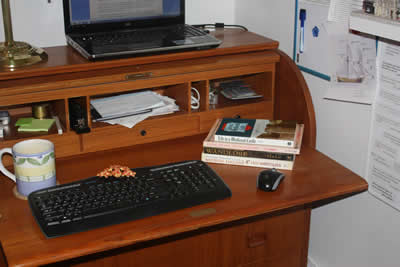 6. What's your writing space like?
Years ago I wrote in the corner of my studio apartment; then I wrote in a corner of my bedroom. But now I have a little office with an actual door in my house. I use an old roll-top desk that I got as a Christmas present when I was ten years old. I've done all my best work on it, so I'm too sentimental and superstitious to get rid of it.
Because I love France and the French language, a little street of Parisian shops hangs on my wall. My desk is littered with stones, shells, and fossils. I also like to have something nearby that represents the work in progress. For The Key & the Flame, I kept a plush dragon named Snort on my desk to represent the element of fire. For The Wand & the Sea, I have a model of a pirate ship.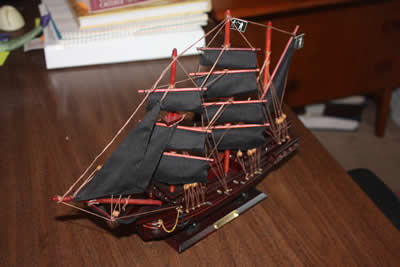 7. Why do you write for kids instead of grown-up people?
It's funny: When you write for adults, no one ever asks why you don't write for kids! Actually, I've written for grown-ups too, including several short stories and a few unpublished novels. But a few years ago, after attempting to publish my latest adult novel, I decided to write something for the pure joy of it. I've always loved fantasy and adventure, and when I started writing The Key & the Flame, I felt like I had come home. I'll probably return to books for adults at some point, but children's literature is my first love. Also, the audience is a lot more fun.
8. What advice do you have for young and/or beginning writers?
You can find any wisdom I have to share on my blog under the tag Writing Advice. You can also download my free tip sheet for writers who are looking for a publisher. Kids who love to write can download my free writing tip sheet for kids.
9. I've written a book. Will you read it and tell me what you think?
I'm so sorry, but I can't. My writing schedule keeps me very busy, and I may not even be the best person to judge your work. Also, for legal reasons, I'm advised not to critique unpublished work in case later on I write something similar and someone screams COPYRIGHT VIOLATION! However, sharing work with a good critique group is a great idea. To read more about finding critique groups click here.
10. What books do you like and recommend?
I fall in love with books regularly. Here are a few authors I read over and over when I was a kid:
C.S. Lewis
Roald Dahl
J.R.R. Tolkien
E.B. White
If you know anything about these writers, you can see their influence in my work. Just about everything they wrote, especially their books for children, is wonderful.
I still read children's books today, as well as anything else I can get my hands on. Some of the current authors I love include:
J.K. Rowling
Kate DiCamillo
Lauren Oliver
Rebecca Stead
And there are marvelous authors for older readers, too. Some of my favorite books include:
To Kill a Mockingbird by Harper Lee
Fahrenheit 451 by Ray Bradbury
Gilead by Marilynne Robinson
Time and Again by Jack Finney
For more info on these and other books—including books I keep discovering as I read them—go to my blog and search under the tag Recommended Reading.
11. Will you come visit my school?
I would love to! You can find details on how I handle school visits on the SCHOOLS page. I also do Skype visits.
You can find links to interviews & online appearances right here.
10 THINGS YOU MAY NOT
KNOW ABOUT ME:
I would love to live in a tree house.
I once owned a parrot who could recite my telephone calls.
My favorite dinner in the whole world is spaghetti with marinara sauce. I eat it a lot.
According to my sister, she is Thing 1 and I am Thing 2. And yes, we have T-shirts.
I don't watch horror movies but I love Buffy, the Vampire Slayer (the TV show, not the movie).
And I also love haunted houses.
I cry at weird times. Like the first time I stood at the top of the hill and looked down into Diagon Alley at the Wizarding World of Harry Potter in Florida, I cried. Okay, I didn't sob, but there were tears in my eyes. It just looked so real; it was like stepping into one of my favorite books.
I actually do use the math I learned in 8th grade. But very little of the math I learned after that. Seriously, 99% of us could stop learning math after age 14 and we'd be fine. Don't tell anyone I said that.
My favorite subject in high school was French. I studied it for 9 years, starting in 8th grade and going all the way through college. Paris is another thing that makes me cry.
I still check wardrobes occasionally, looking for a doorway into Narnia.